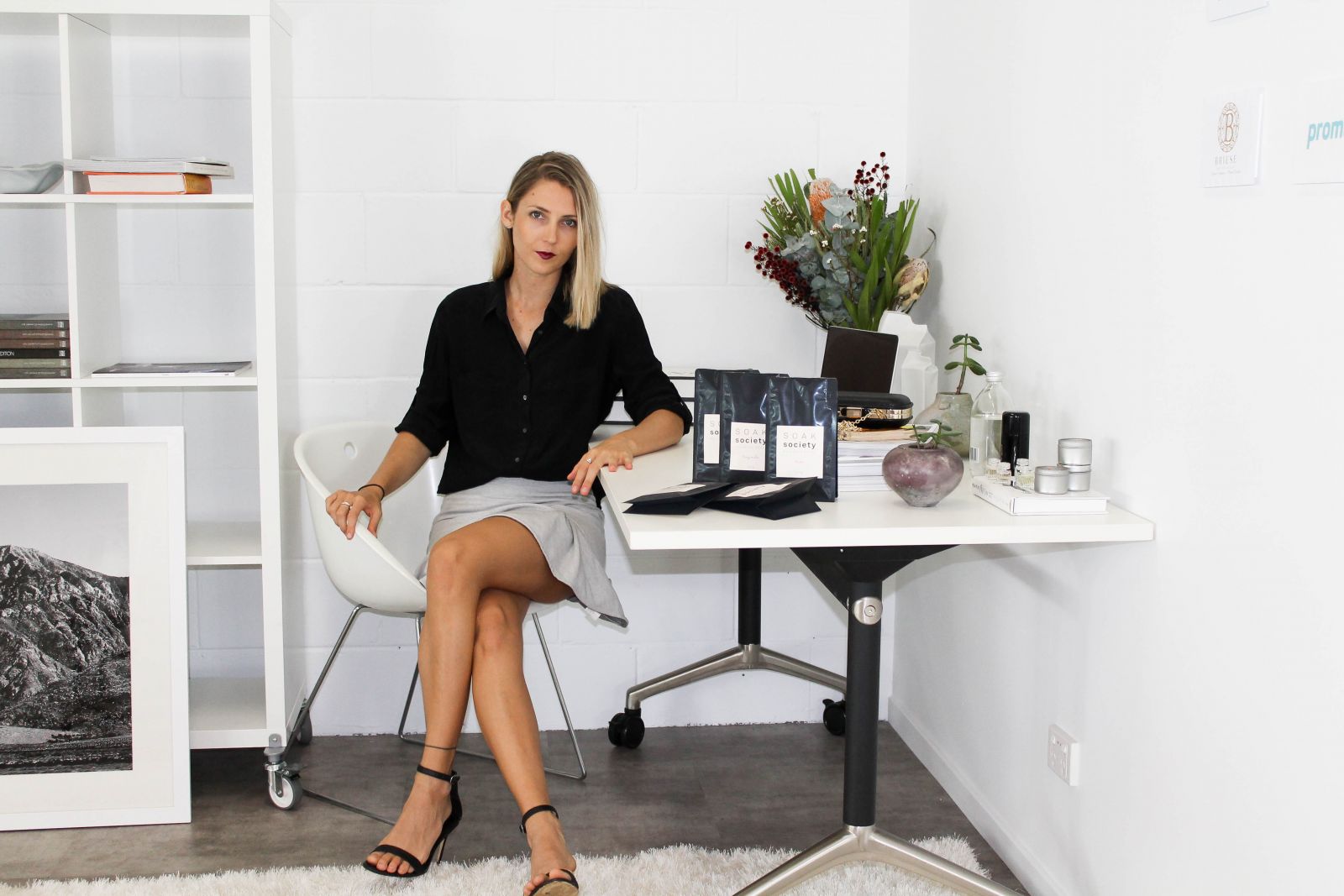 Meet the Makers: Natalie Thorogood from Soak Society
It's a brand that celebrates the beauty of a bath with a range of bath products designed to give you a supreme soaking experience - and some much needed you-time. And we are one hundred percent here for it.
Not surprisingly, the story of Aussie brand Soak Society began with a love of baths. Founder, Natalie Thorogood had been creating her own bath products - luxe natural concoctions made of clay and salts - and knowing how effective they were she decided to take her love of soaking to the next level, and turn it into a full time job. From that one product (the Originale Wellness Soak) Soak Society was born; a range of natural, paraben free, vegan, bath products designed to make bath time that little bit more beautiful. We chatted to the founder, Natalie Thorogood about clay, soaking, and connecting to your inner child.
Why do you love baths so much?
"I love the ritual of creating time and space for oneself, I love the feeling of the hot water cocooning my body and I love that it creates a similar detoxing feeling to being in a sauna or steam room. But also I love that I get to feel like a kid again and play with bubbles - it's important to stay connected with your inner child, and I find this an easy way to do that."
What was life like before Soak Society?
"I worked as a personal concierge and professional organiser for five years when I lived in Brisbane and really enjoyed it. It was challenging and perfect for my personality type. I also have a Communications degree, even though I never really worked in the PR or marketing industry and I've had loads of other crazy jobs as I lived in Whistler, Sydney, Perth, and the Kimberleys in WA."
What does the ultimate soaking experience look like?
"I think this is different for everybody, but I like to watch a TV series on my laptop while I'm soaking! It's forced alone time to just relax without my phone - and I always do a face mask in the bath, either a sheet mask or a clay one. At the moment I'm loving our BathDew, and also our brand new White Tea Wellness Soak."
Tell us about the first product you created?
"It was the Originale Wellness Soak - the product was the whole concept the business was based around! I'd created the product for my own use and thought 'I should sell this'... which is how Soak Society was born. Originale has the winning trio: epsom salt, celtic sea salt (the highest in trace minerals) and bentonite clay which is a great detoxifier. It also has essential oils of peppermint, juniper berry, bergamot and rosemary."
Why was it so important for Soak Society products to be natural paraben free and vegan?
"Being vegan and cruelty free was never a question for me, because I'm vegetarian (and have been since I was 10). I also think that more people are becoming aware of animal testing and choosing brands who don't test on animals. Around the time I started my business, I became aware of the toxins in body and skin products and had swapped my home products to natural or organic versions… so it just made sense to create a natural bath brand (free of SLS, SLES) that didn't look too hippie. I wanted to appeal to people who were in that process of swapping over, but still wanted their products to look good in their bathroom"
Do you have a favourite product in the range?
"BathDew! We spent over a year creating this product - a completely all natural bubble bath that uses organic ingredients and nothing nasty. It's completely safe for kids and adults alike and leaves your skin feeling moisturised and not dried out like a regular bubble bath."
If you could go back to 2014 and give yourself one piece of advice before starting this business, what would it be?
"Take more risks (or things that I would have perceived at the time to be risky). When I look back I think I was maybe too conservative in my promotion of the brand."
How important is the smell of your products?
"It's very important because scent is so heavily tied to our emotions. I created each blend very instinctively, and have tried to make each Wellness Soak very different to the others. That way there is something that suits every taste."
Fast Five… With Natalie Thorogood
My current bath-read is...
The Plant Paradox by Steven Gundry because I heard him in an interview on the Goop Podcast.
One thing that would surprise people to know is...
My birthday is on new years eve which makes me a stubborn (I mean, hardworking) Capricorn!
To me, "looking after yourself: means…
"This is something that is constantly evolving for me, as I learn more about myself. At present, looking after myself means 'checking in' with myself on a daily basis to monitor my stress and anxiety levels. Thinking about the 'big picture' in stressful moments really helps, and also clarifying what is actually really important to me (my partner and family, and helping people and being connected to my community) has been a great tool lately! Some other things in my toolkit include; a long bubble bath, sitting quietly with a cup of tea and my dog, walking on the beach. All of these things bring me back to centre."
I'm currently binge-watching...
"My most recent three are: Dynasty, the new season of Making a Murderer and El Chapo. I love crime documentaries and series."
My personal mantra is…
"Everything happens as it's meant to."
Want more?
Shop the soak society range here
Follow the brand on insta @soaksociety