Three families, a campfire and an idea: that's how buds of We Are Feel Good Inc were born. As the story goes, after days spent fishing and surfing at a remote camp ground in WA, the campfire conversation turned to sunscreen (yes, really). Or more specifically - how underwhelming the sunscreens on the Australian market were. Sunscreen should feel good to wear and it should make people want to wear it. Together they set out to create a brand that did just that, and within 18 months had a game-changing product on the shelves. One of those people was Skin Cancer and Cosmetic Physician, Dr. Scott McGregor, and here he shares what gets him up in the morning, why our skin needs repairing, and the trick to working with (lots of) friends.
What gets you up each morning?
As a Skin Cancer and Cosmetic Physician, I spend my days dealing with the damaging effects of the sun. For many years I have advocated for the daily use of SPF 50 sunscreen as the best way to prevent premature ageing of the skin and skin cancer. Our mission is to help make sunscreen a part of everyone's daily routine through providing user friendly and effective products – and through education.
What was wrong with the sunscreens on the market?
Sunscreen wasn't seen as cool, was a bit of a chore to apply daily, and uncomfortable to wear. We recognised this problem and helped provide the solution.
What's the secret to working with six friends?
We were very lucky from the start to have six very passionate and talented people involved and each person brought a different skill set that was essential to getting it right. I think we nailed all aspects from packaging design, product development, to sales and marketing strategy because of this. Currently, two of us remain working in the business, but our success was built on very solid foundations!
We Are Feel Good Inc is now six years old with over a dozen in the range. Which product started it all?
Our Sensitive, Signature and Coconut Sunscreens were all created about the same time. I knew how I wanted our sunscreens to perform and what ingredients to focus on, and then it was a long process of sampling and modifying until we got it right. We were lucky enough to be the first company in Australia to use a unique preservative system that used emollients rather than traditional preservatives. That is a big part of how we got our products to feel more like a moisturiser than a sunscreen. Our biggest seller has always been our Sensitive Sunscreen Lotion SPF 50+. It's the broad appeal I think as it'ss suitable for anyone with sensitive skin, babies from six months and children.

What was the most challenging part of creating a sunscreen?
Developing a sunscreen that is different to anything else on the market is tricky. We approached many sunscreen chemists and eventually began working with two leading laboratories. We made and tested many, many samples over the first year, on ourselves and our families until we had the product we wanted. Sunscreens are considered a medicine in Australia so once we had the product we loved, we then needed to pass through many regulatory hoops before we were able to start selling it. Now it's constant education to make sure that we stay ahead of the curve and deliver the best possible products.
What has surprised you most about this journey?
How bloody hard it is to start a company! haha. You really have to be prepared to sacrifice a lot and to fight on when it all seems hopeless and the money runs out (again!). Only about 10% of new businesses survive long term and make a profit, so without a clear vision and a lot of passion it will get difficult!

What will we never see in We are Feel Good products?
As a brand, we try to steer clear of negative or fear marketing. It's a trend at the moment to demonise certain ingredients and then claim that your ingredients are "safer" or " more natural" without any scientific evidence to back these claims. We prefer to highlight the benefits of the great ingredients we use and respect the consumer's intelligence to not get their ingredient advice from instagram celebrities. If an ingredient is found in a TGA licenced product, it is safe.
What are the most important things we should look for when choosing a sunscreen?
The single most important thing is that it has a TGA licence number on the packaging (usually located on the front of the packaging). This means that according to the latest science, this product is safe to use AND does what it claims to do. Licensing is extremely strict in Australia and reviewed regularly. Secondly , choose any SPF 50+ sunscreen that you feel good about wearing every day, because that's what you should be doing.
What product have you not yet created but would love to?
I feel that we have helped to make skin protection a bit more fun and easy. The next dream for me would be to help make skin repair simple and affordable. Our new Good Night Skin Restoring Cream is a step in that direction. Australians on average have some of the most sun damaged skin on the planet so we need help!
What product are you most proud of?
I'm very proud of our new Good Night Skin Restoring Cream. It's our first attempt to introduce skin repair into our range in a simple and affordable way and we are super happy with the results. But most proud would have to be our original range. I really think we were the first brand to offer an affordable SPF 50 that actually felt good to wear. We still get new customers telling us every day how our products have helped change their attitude towards skin protection.
What do you think is the biggest sunscreen myth?
There are so many out there. I think the one that annoys me the most is the myth that somehow zinc oxide found in sunscreens is "natural" and works like a "shield" to protect you, so somehow it must be the best and only UV filter safe to use. Zinc oxide found in sunscreen is made in a laboratory just like many other chemicals found in cosmetics. The process is by no means natural. And Zinc oxide protects you from UV rays in exactly the same way as other UV filters – by absorbing the rays and turning them into heat. In reality only about 5% of UV rays are actually reflected. Don't get me wrong, zinc oxide is one of the best ingredients to use in sunscreen, and we use it a lot, but I don't like that some companies use fear marketing to get people to use their products , or potentially stop people using sunscreen at all. Don't be don't fooled by social media claims. It is an example of fear-based marketing not based on actual science.
What do you now know about sunscreen that you didn't, prior to launch?
So much! Actually up until only a year ago, I worked as a skin cancer physician. I talked alot about sunscreen to my clients everyday, but I realise now how little I knew then. Making good sunscreen is a complicated science, and understanding the chemistry of how all the ingredients come together and perform is next-level. I see it as our duty as a suncare brand to help educate and to make sure we are using the best science and latest technology.
Why was Australian made so important to you?
Australia has a worldwide reputation for its innovation and expertise in the skin care field. Our products are formulated to work in the harshest environment and to help repair tough Aussie skin! Needless to say we are proud Australians.
What's next for We are Feel Good Inc?
Lots of exciting products in the sunscreen, moisturiser and skin repair ranges, but my marketing team has told me not to give specifics and ruin the surprise! We are also slowly growing into other parts of Asia, where the demand for great Australian sun care products is growing rapidly.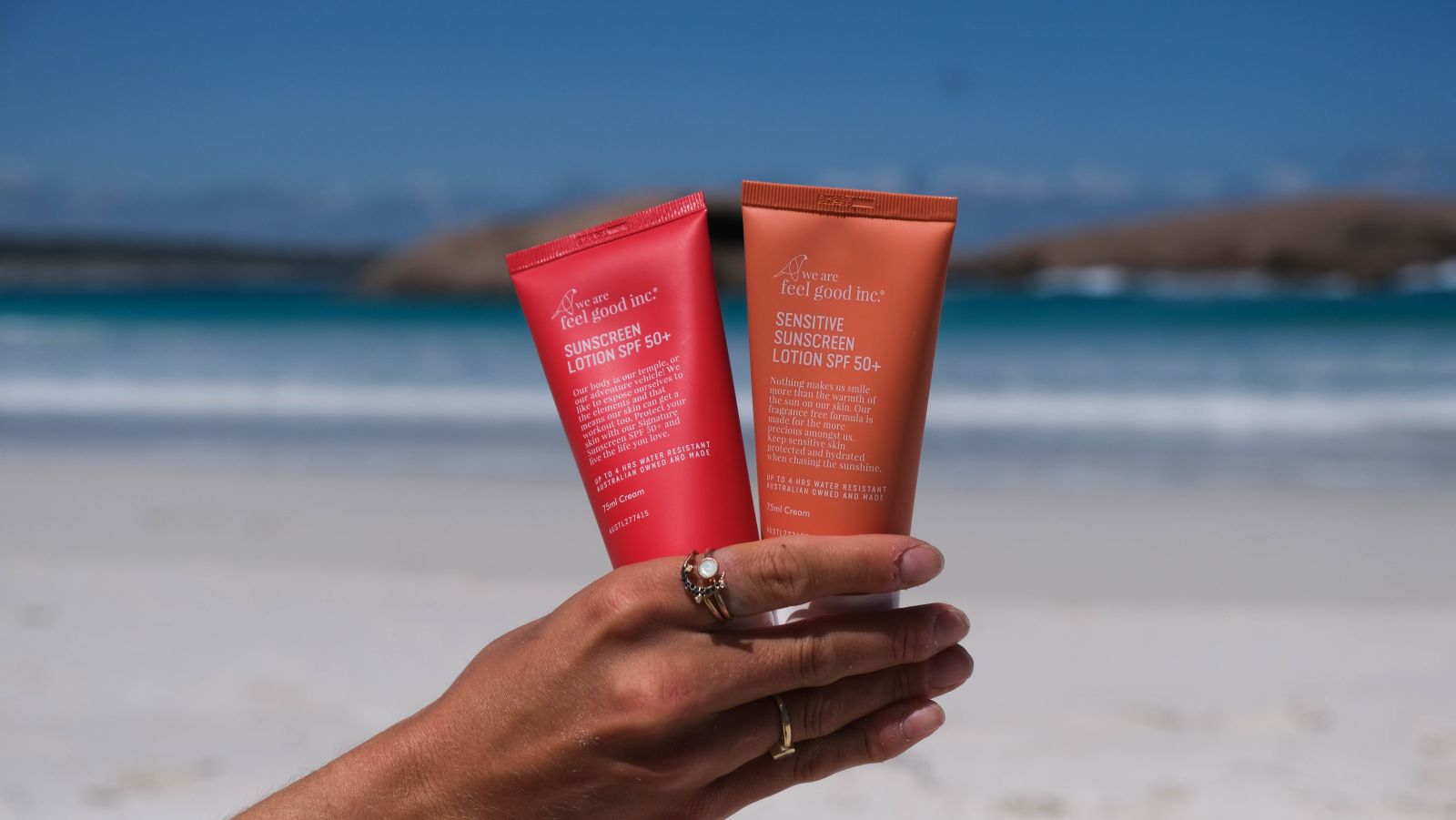 The podcast I'm obsessed with is… Rolling Stone Music's Now Podcast; it's music industry stories from Rolling Stone Magazine contributors. Conversations with Richard Fidler is also fantastic because it's just great interviews with interesting people and he has the best voice on radio.
The one thing that would surprise people about me is… I dropped out of medicine temporarily and enrolled in Arts. Thankfully, I was talked back into medicine, but I still have the urge to write one day. Also, I had two skin cancers at a young age, hence the life long obsession with suncare!
The last person I texted was… My eldest daughter, to make sure she fed the dogs!
I take my coffee… Traditional macchiato, strong, repeated mid-morning.
I'm most happy when… I'm spending time with my family or surfing or snowboarding with good friends – preferably in Sumatra or Japan!
The best piece of advice I've ever been given is… Follow your gut, stick to your vision and ignore all the doubters. Also , hard work brings you luck.
Shop the range here.
Follow the brand here.