Meet the Makers: Danielle Lonie an Yana Stipis from The Unnamed
Uncomplicated, effective and Australian made. The Unnamed is the name you need to know.
Friends Danielle Lonie and Yana Stipis started out in the skincare world as colleagues at a big-name cosmetics company, so they understood first-hand the abundance of products on the market, and how overwhelming they all were for consumers. Knowing this, the duo set about creating a brand that simplified things – or as they say they wanted to "Marie Kondo the beauty industry". "We both have worked in the industry and we would still find ourselves standing in front of a shelf and not knowing where to start" they said. With this mission front of mind they created a brand that would make it easy for people to choose the right product for their skin, and choose confidently. It needed to be uncomplicated and affordable, but more importantly – it needed to work. And so, The Unnamed was born. Here we speak to Danielle and Yana about being Australian made, superstar ingredients, and why you should always mask with wine.
Tell us a little about life before The Unnamed
We both started our careers at L'Oreal. When we were there, we saw that sheet masks were coming through as a new format of skincare in both the luxury and mass markets with two very distinct price points and offerings. We wanted to mix the two and create a luxury product at an affordable price that delivered on our customers expectations. It wasn't so much a "moment", but rather a combined 10+ years of learning and shopping for skincare that landed us here.
What was the first product you created?
Our sheet masks are our first product that we have created, however there were many iterations and testing and trialling and reformulating to get to where we are today.
We had a long list of dream products that we wanted to create but in the end we narrowed it down and decided to start with sheet masks because they're a product that anyone can use, they leave your skin feeling and looking better (in only 15 minutes!) and they create a moment in time for self care and fun.
What key ingredients have you used in each of your products, and why did you choose them?
All of our products are formulated with proven ingredients that are tried and tested so that you can be sure that they will do what they say. We chose ingredients that are the absolute best at addressing skincare concerns.
All of our masks contain Peptides which provide anti-ageing benefits. Peptides activate collagen production and strengthen existing proteins in our skin. The specific peptide in our masks, Acetyl Octapeptide-3, prevents the formation of wrinkles and reduces the appearance of the signs of ageing.
Our hydrating mask contains Hyaluronic Acid. With the ability to hold 1000x times its own weight in water, hyaluronic acid helps the skin retain moisture so that the skin looks and feels hydrated, plump and healthy.
Our brightening mask contains Niacinamide (Vitamin B3) which has a multitude of benefits including reducing pigmentation, improving uneven skin tone and preventing the signs of ageing. Niacinamide activates the production of collagen and ceramides in the skin to help fight against ageing, plus it repairs the skin barrier to maintain hydration, it reduces pore size and it fades pigmentation.
Our firming mask contains collagen which renews skin cells to improve skin texture and elasticity & also has moisturising properties that hydrate and plump the skin.
What is so special about The Unnamed masks?
Most sheet masks on the market are formulated to treat and correct current skincare concerns, like for example dry or dull skin. When we were formulating The Unnamed sheet masks we wanted to ensure that not only were we treating those skincare concerns, but that we were looking after our long term skincare concerns also. All of our masks treat a "right now" concern as well as having overall anti-ageing benefits, as we truly believe great skin is built through prevention over a longer period of time.
What are your best tips for getting the most out of your sheet mask?
1. Preparation is key! Take the time to cleanse your skin before masking so that your skin is prepped to absorb as much of the serum as possible.
2. Wear the mask for the right amount of time. This is one case when longer doesn't equal better! You want to leave the mask on for just long enough that your skin absorbs the serum and doesn't start drying out, otherwise reverse osmosis may occur and the sheet will start absorbing some of the serum that was meant for your skin.
3. Relax! Take the 20 minutes that you're wearing the sheet mask to focus purely on yourself and your skin.
4. Lock in the serum by applying your moisturiser after you take off the sheet mask.
5. Don't waste any excess serum! Fun fact: a single sheet mask contains 25ml of serum, compared to a bottle of serum, which usually holds around 30ml. If any serum is left over after you remove the sheet mask, you can apply it to your neck, décolletage and hands, or you can save it in an airtight container and incorporate it into your skincare routine over the next few days.
Why was being Australian made so important to you?
Being Australian made was an element that we weren't willing to compromise on. To us it means quality, and for a product people are putting on their skin and their faces, a quality product is our highest priority.
Forging ahead with Australian made did come with its challenges though. There aren't many manufacturers in Australia with the technology to deliver the end product as a lot of the technology is in Korea.
What is your favourite masking ritual?
Yana: A sheet mask with a glass of wine in hand while watching Netflix is my go to – it helps me unwind!
Danielle: I love having a girls night in with my mum and my sister. We pop a sheet mask on, and enjoy catching up over a cheese board. It's so much fun!
What's next for The Unnamed?
We are currently focused on our core three sheet masks but have a few formulations in the works in the background. Any products that we deliver need to be efficacious, Australian made with anti-ageing benefits, always.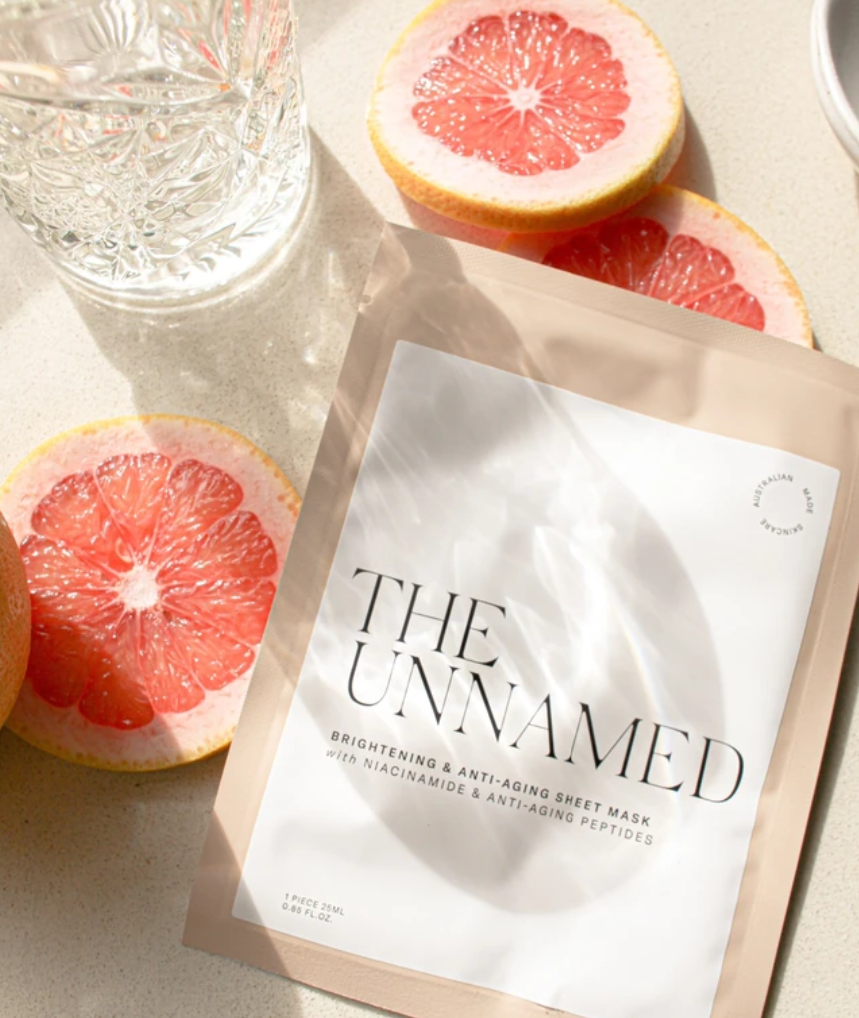 The Fast Five… with Danielle and Yana
One thing that would surprise people about me is… (as answered for each other)
Yana about Danielle: Dan is a really good swimmer! She does multiple ocean swims a year.
Danielle: I'm going to answer this about both of us, actually. We both grew up in a rural part of far north Queensland and used to work together in our school holidays on a banana farm. It was hard work!
"Looking after yourself" means...
Yana: On the daily, it's the little routines and rituals I have built into my day, such as my skincare routine, sitting and enjoying my coffee and croissant before I walk to the office, and Pilates in the evening. In the long term, it's being conscious to not overdo it and taking the time to rest and pause when needed so I don't burn out. It's also catching up with friends and family and recharging.
Danielle: I think it's about knowing what you value and prioritising that. Our lives can be so busy and frenetic and it can be easy to get caught up in things that aren't important. I tend to take on too much.
I'm currently binge-watching....
Yana: I am currently re-watching Grey's Anatomy. I haven't watched it since Uni days and it is still as good as I remember. How am I up to season nine; Episode 12 already?!
Danielle: I'm really into crime shows and I've been bingeing Killing Eve over the past few weeks. Wikipedia put it into the category of "British black comedy-drama spy thriller" – I think that says it all. What more could you want from a TV show? It's fast paced and dark but also really funny.
The first thing we did after Covid isolation was...
We are both originally from far north Queensland and have come back to our families during isolation.
Danielle: I love reading and I also love sunshine, so I went to the beach for a swim and then made the most of being able to stay outside soaking up the rays with some fish and chips.
Yana: I am looking forward to seeing and spending time with my Melbourne friends who I haven't seen in months now. I'm also looking forward to going for a coffee at my local, a walk around that tan and getting back to my daily routine. (I'm also a little excited to see my work friends back in the office once allowed).
Do you have a personal mantra?
Yana: "Do less with more focus". I truly try to live by this mantra as for me I think more is achieved when you focus on a few things rather than spreading yourself thin (I'm also a little bit of a perfectionist so focusing on a few tasks helps to deliver outcomes I can be proud of).
Danielle: "No regrets". I don't believe in regrets. I believe we have trust in the choices that we make in life, and that we made them for the right reasons.
Follow the Unnamed here:
Insta: @theunnamedskincare
Shop the entire range of The Unnamed masks here.