What does the GM of a property development company and a candle maker have in common? Absolutely nothing, except that they are both job titles that Lou Martin has held. After years spent in the GM role, Lou left in 2016 and began pursuing her creative passion - making candles. But it wasn't until the candles started taking over every inch of her house that she realised that her passion had turned into her career. Here, we talk to Lou about making the move, why candles are so special and what it's really like working alongside her husband.
Tell us a little about Drift…
I launched in 2016 after resigning from a job in the corporate sector. I've always had a love of candles, scent and homewares in general, and began making candles as a bit of a hobby to complement my husband's recycled timber furniture pieces.
The name came about on a camping roadtrip that we took after resigning from my job. We wanted a name that captured the products we were both creating (his recycled timber furniture and my candles) and that evoked a sense of whimsy, relaxation and our laid back style. To 'drift' is kind of like being transported to another place, it feels free spirited and enjoyable – which is what we want to evoke with our products.
How long did the whole process take?
I probably spent 4-6 months perfecting the art of making soy candles and developing scents before launching at local markets. I really just wanted to test the market but it wasn't long before we started being approached by local businesses wanting to stock our candles.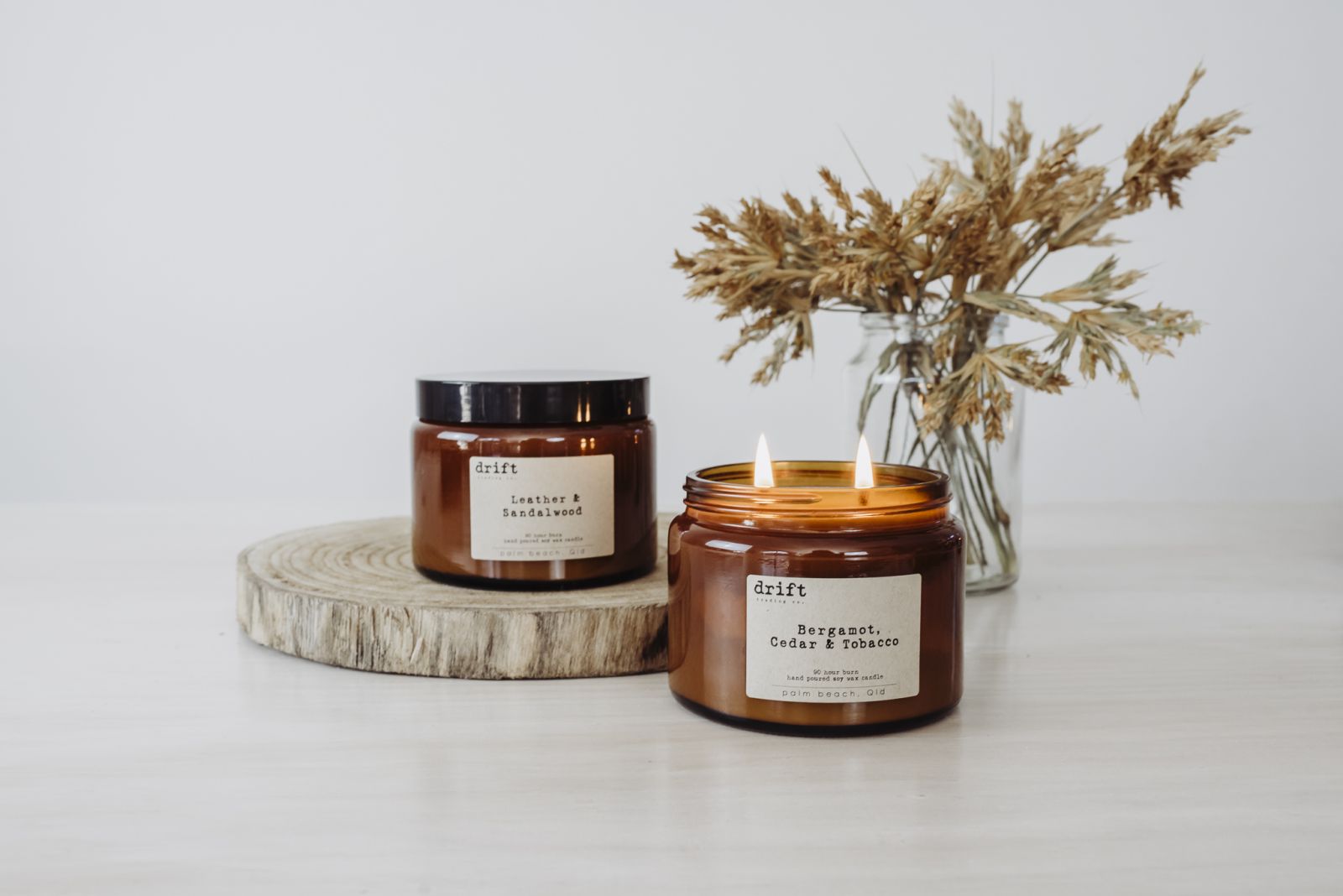 Can you share a little about your career journey and how it led to the creation of Drift?
I previously worked as a general manager for a property development company. I learnt a great deal in that role but the most important thing I learned was that it wasn't what I wanted to do forever. I had a creative side and I knew that there was 'something else' I was meant to be doing.
When we started to do really well with candle sales at local markets and shops started approaching us we realised we were onto something. I have 'moments' all the time that reinforce that I'm doing exactly what I'm meant to be doing, like receiving emails or messages from customers expressing their gratitude. These are the moments that really make me smile and motivate me to continue on this journey. I really do love what we do.
Was there a turning point when it transitioned from hobby to career?
I guess the real turning point was when our house turned into a candle making factory… hubby had rigged up a piece of melamine to cover our cooktop so that I could have more bench space for pouring candles. I distinctly remember one Christmas a few years ago when our lounge room floor was covered in boxes of candles to be shipped to stockists and our kitchen benches were covered in candles – that's when we realised we needed a bigger space dedicated to making candles. The following year we leased a factory space and Paul started working part time helping me make candles. Now we have two factory spaces (side by side) and Paul works full time for Drift.
What do you love about candles?
So many things!! That scent can transport you to a different place/headspace, lift a mood, motivate, comfort, inspire, relax and enhance a space. There's nothing better than the aroma of 'Coconut & Tahitian Lime' or 'Lychee & Peony' on a balmy Summer evening while sipping on a margarita watching the sun go down, or the earthy aroma of 'Leather & Sandalwood' or 'Cedarwood & Myrrh' during the cooler Winter months to create a cosy, warming ambience. I also love the soft flickering light – there's nothing better than the ambience of candlelight!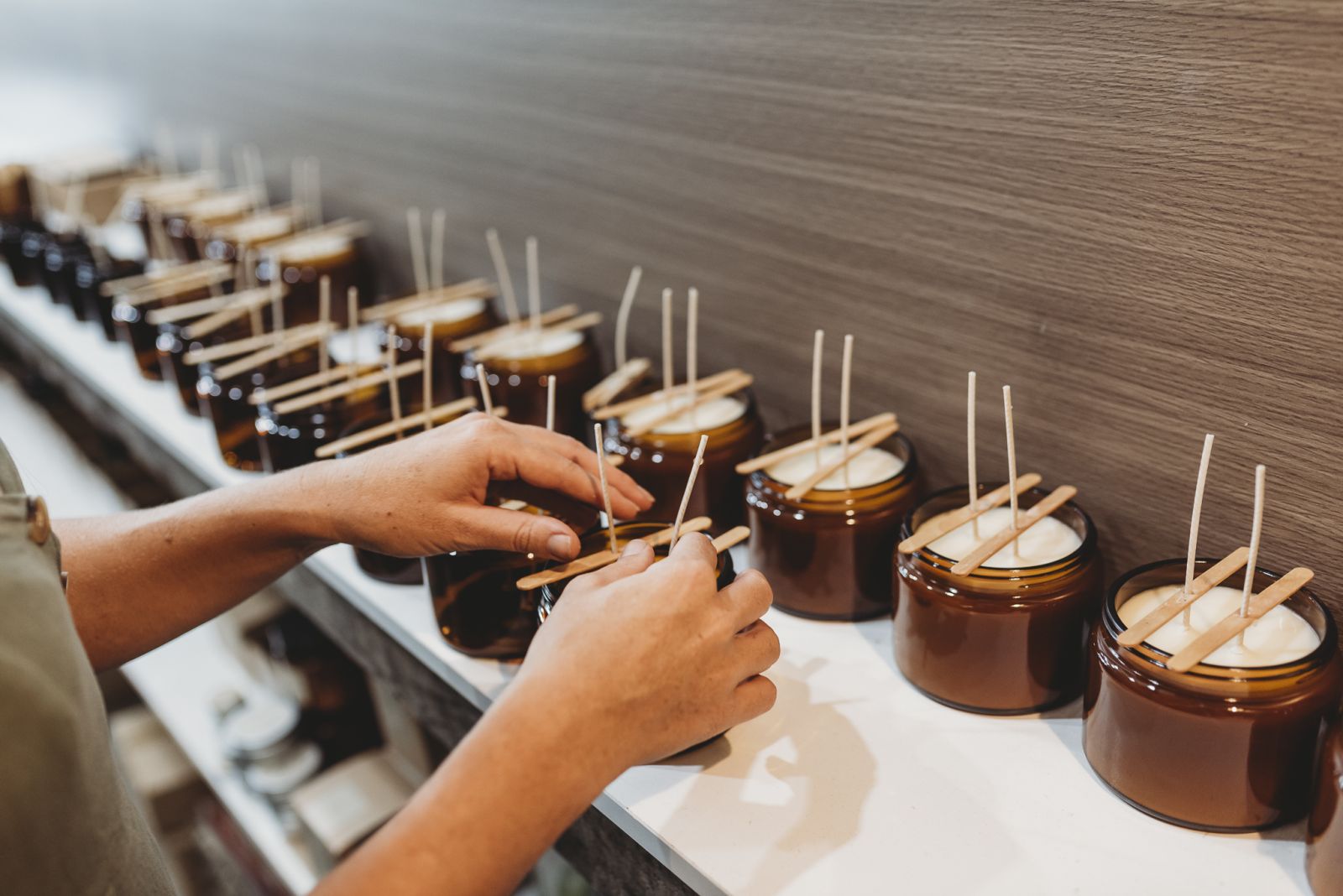 What sets Drift apart?
Our philosophy from the start was simple: to create quality scented soy candles that have a beautiful aroma from the first burn down to the last – we wanted to create a high quality product that our customers fall in love with. For packaging, I wanted something very simple and understated that could be used in a wide range of interior styles – I didn't want coloured labels that would compete with other décor products and I wanted our candles to have a relaxed, earthy kind of feel allowing the aromas to speak for themselves.
We use soy wax as it's a natural product that is 100% sustainable, renewable and biodegradable. It's also non-toxic making it better for both the environment and your health, has a beautiful clean burn and is a great carrier of fragrance oils. And finally everything is done by hand – there are no machines at Drift HQ – so it's quite labour intensive.
What is your favourite at-home candle ritual?
My evening ritual of getting home from work and lighting a candle on our lounge room coffee table. By the time my glass of wine is poured and I'm ready to sit down for a few moments I'm greeted with a beautiful aroma and a soft flickering light.. It's the little things that enhance every day rituals and make you relax and smile.
What is it really like to work with your husband?
I guess the greatest perk is that we have each other to bounce ideas off of and we are completely honest with each other as it's our livelihoods on the line. We try not to bring 'work talk' home but sometimes it's also great to be able to discuss ideas and dreams for the business when we're relaxed at home. In terms of the greatest challenge... in all honesty there aren't too many – it's my way or the highway – lol!! No, I guess we both have our defined roles within the business and we both respect what the other does and brings to the business, we give each other space and autonomy to do our 'thing'.
What was the first candle you made?
Japanese Honeysuckle. It was a popular blend at the time and is still a fave of many customers. Our bestseller at the moment is 'Cedarwood & Myrrh' which has a beautiful perfume-like aroma – it's warming and luxurious with a slightly oriental feel, it's just divine!
What are your best tips for getting the most out of your candle?
Number one is to create a burn memory: this essentially means that you need to allow the melted wax to reach the sides of the vessel for the first burn – this takes around one hour for our medium size candles and two or two-and-a-half hours for the large and extra large. Creating a burn memory will prevent your candle from tunnelling and give it an even burn ensuring you get the maximum burn time out of your candle. The second tip is to ALWAYS trim your wick (down to 5mm) before re-lighting each time – this will reduce the flame size and encourage a longer burn time.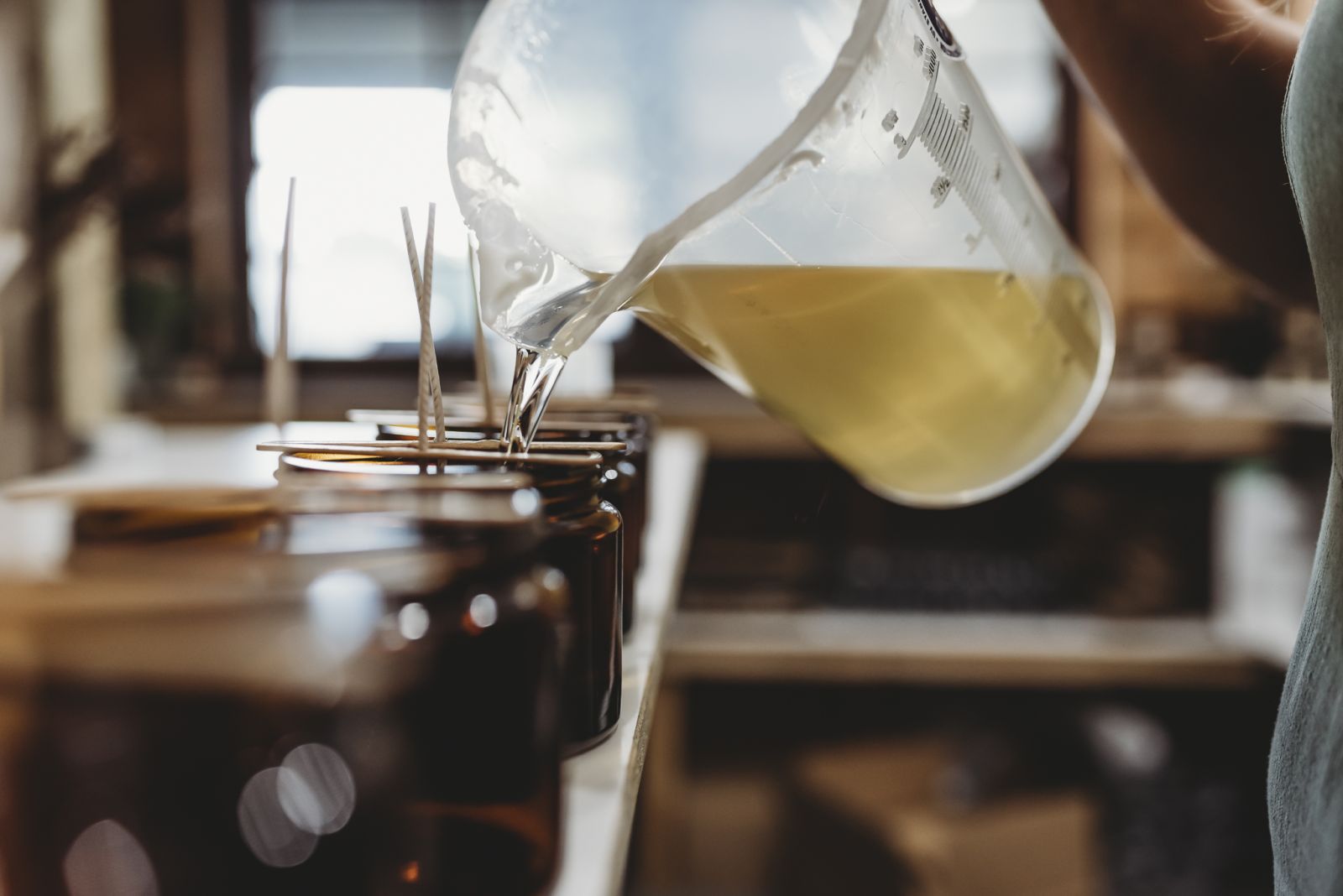 The Quick Six With Lou Martin
My go-to candle is… 'The Beach House'. It's always been my fave and I never tire of the fresh, breezy aroma – it reminds me of the beautiful coastal location we live in on the Gold Coast.
One thing that would surprise people about me is... I grew up on a dairy farm in Northern Tasmania driving tractors!
On my bedside table is... Actually I can't tell you. It's a new blend that we are working on for 2022 – smells amazing though
My breakfast order is... Skinny cap with smashed avocado, fetta, and a poached egg on sourdough with a sprinkling of dukkah and rocket on top.
During Covid I missed... Definitely travelling to Byron Bay camping for the weekend. We rarely get time off and when we do it's usually only two nights away, Byron is perfect as it's so close yet feels like a real getaway – hubby gets to surf and I get to shop!
My ultimate dinner party guests are…
(Aside from my husband)
1. My nan. There are lots of things I'd like to ask her and seek her advice on now that I'm a grown woman.
2. Michelle Obama. I read her book a few years ago and wow, she seems like one incredible woman who came from a very low socio- economic background and has achieved so much – her drive and determination is inspiring.
3. Aretha Franklin… for some after dinner entertainment. She is the queen of soul – what a voice!! I'm sure she would have some interesting stories to tell too!
Shop the Drift range here
Follow them on insta here @drifttradingco