If the thought of incense brings back stenchy memories of musty markets and powerful patchouli, it's time to rethink things. Because the incense of 2021 is a far cry from the sticks of our youth – and we largely have Sophie Marshall to thank for that. The Torquay Mum of two boys (Ace and Duke) is the Global Product Manager of Ripcurl during the day, but she's also the creator of one of the most coveted new incense brands on the market – This is Incense. In fact, she basically revived the entire category with her boutique, Australian made, hand-rolled incense with considered, customised scents. Here, Sophie chats to us about ritual, the beach and how the best inspiration comes in the shower.
Tell us a little about This Is Incense... I started the brand mostly as a product for myself as I needed incense to help me unwind when I walked in the door from the office. I was really struggling to unwind and switch to 'mum mode' when I got home (something I know a lot of people struggle with) and burning incense really helped. This became my after work ritual.
How did you know this was what you wanted to do? The moment came to me in the shower one morning – it literally popped into my head: "You need to make incense". So I got out of the shower and told my husband who thought I was nuts…..
What is the story behind the first product you made? There were a few things we decided on when we set about making this product:
- It had to be Australian made.
- It needed to be easy. If it was all too hard then we needed to abort the mission.
- It needed to be self-funded – no borrowing any money externally.
- And it needed to grow organically which meant we needed to start small… and we did – with one product. So with our personal connections to special beaches in Oz we decided these would be Bells Beach Byron and Margaret River.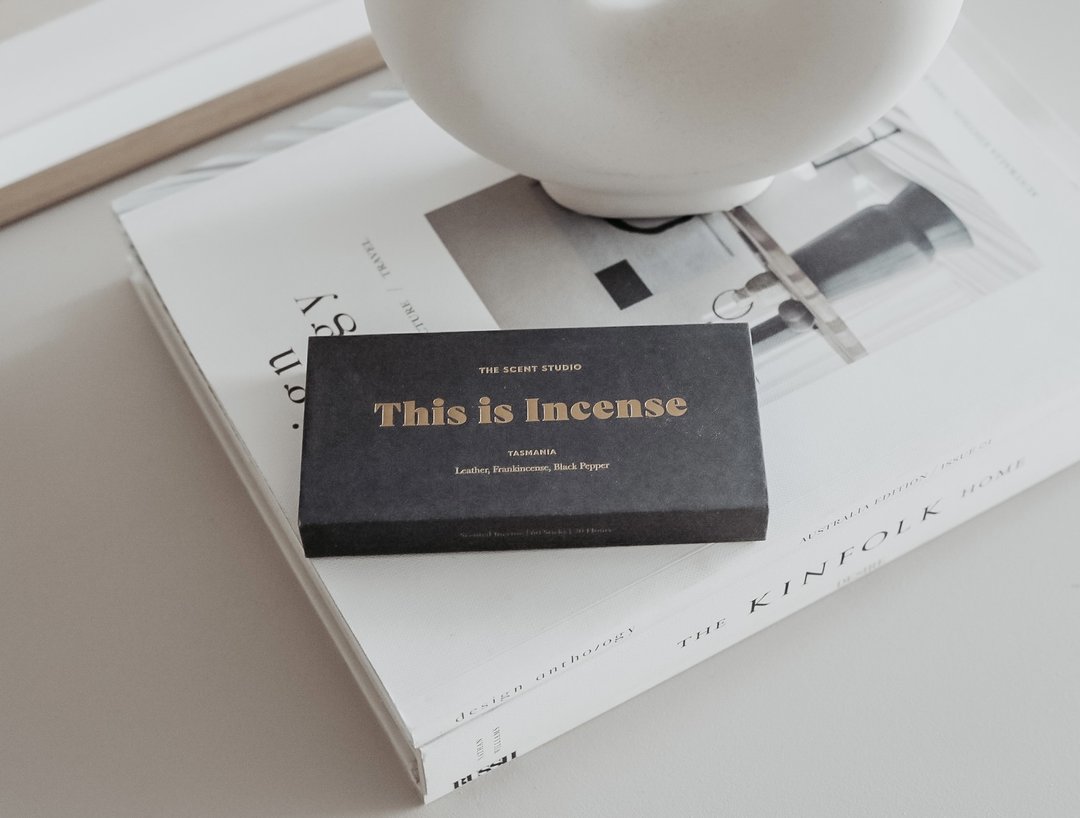 What is your special connection to these beaches? Bells Beach is where we got married and the family spent a lot of time surfing this break. It holds so much history and I think it is a special spiritual place. Margaret River was where I spent my teen years burning hippie incense whilst listening to 90s grunge and Byron Bay holds so many salty, summer holiday memories for me.
What were your non-negotiables when creating the scents? It needed to be all Australian essential oils with no plastic packaging… which is hard with the sticks being so gentle. I wanted people to open the boxes and smell the scents and not have to guess through plastic.
What will you never see in This is Incense? Never anything synthetic as I didn't want it to have a fake smell - we are all about essential oils as our base. I never want to create a product that I don't love myself. Burning it can be different from smelling it as an oil so it can be tricky to get the balance right.
What makes This Is Incense different to other brands on the market? We're Australian made – in Victoria – and the scents we've developed are honestly the best smelling ones I've smelt. Is it bad to be obsessed with your own product?!
What are the challenges in hand making this kind of product? The process is lengthy, they are all hand dipped and dried which can take over a week, the packing of the incense is delicate and takes the longest time. We employ locals in Torquay to pack these.
What is your favourite incense ritual? Opening up the whole house in the morning, lighting my incense (I'm burning Yamba at the moment), making a coffee, putting the music on and starting the day in the right mindset.
How was your business affected by Covid? It's been a roller coaster of a ride for our brand and I am so thankful we are still here. The lowest point was that our oil supplier decided right before christmas that they weren't supplying our oils anymore so we lost all of our christmas orders. I dropped to the ground when I got the call and sobbed, it took me a few days to pull myself together. We then had to redevelop the recipe with a new supplier and use a lab to get the correct percentages of ingredients which took weeks but we matched these perfectly. Luckily our amazing stockists kept their orders on as back orders! A high we launched our new scents Noosa, Yamba and Tasmania two weeks before christmas and they have been so well received.
The Quick Six… with Sophie Marshall
I'm obsessed with the podcast…"The Urban Property Investor" (Sam Saggars). I love the education we have got from this podcast. Also "Claremont the Trial" which is all about the Claremont serial killer. I listened to every 100 + episode during lockdown. Having grown up in Perth I was a teenager at the time this all happened.
The one thing that would surprise people about me is...I love Metallica and Tool and am building a Valiant V8 Aussie Muscle car which isn't finished and has taken two years!
My favourite smell in the world is...Our Yamba incense. This honestly takes me back to our place in Yamba which is the best place in the world!
I'm currently binge-watching... Mind Hunter. True crime based on true stories of the minds of serial killers – hubby and couldn't stop watching it!
If you looked inside my handbag you'd find... Lip gloss, Star Wars figurines, receipts and sunglasses.
The one beauty product I can't live without is... I've just discovered A Night Lip treatment - it's the BEST!
Shop the entire This Is Incense collection here or follow Sophie on social @thisisincense